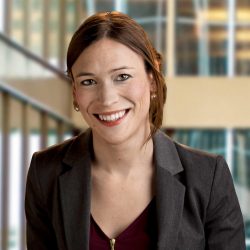 Lena Suchanek
Director
M.Sc. Economics, Université du Québec à Montréal, 2007
B.Sc. Management and Economics, Otto-von-Guericke University, Germany, 2005
Bio
Lena Suchanek was appointed Director, Regional Analysis Division, of the Bank of Canada's Canadian Economic Analysis Department in January 2018. In this capacity, she is part of the leadership team that directs and manages the department and oversees the economic analysis activities of the Bank's five regional offices (Vancouver, Calgary, Toronto, Montréal and Halifax). She leads the division in carrying out and publishing the quarterly Business Outlook Survey, conducting regional and sectoral analysis and economic research, and supporting the Bank's communication strategy.
Ms. Suchanek first joined the Bank of Canada as an economist in the International Economic Analysis Department in 2007, before moving to the European Central Bank in 2010. She returned to the Bank of Canada in 2011, later joining the Regional Analysis Division at the Quebec Regional Office, where she was appointed principal economist in 2015. In 2017, she was appointed policy advisor, a position she held until being named director. Her primary research interests include unconventional monetary policies and international economics.
---
Show all
Staff Analytical Notes
In the past few years, many have postulated that the possible disinflationary effects of digitalization could explain the subdued inflation in advanced economies. In this note, we review the evidence found in the literature. We look at three main channels.
Firms increasingly rely on digital technologies such as e-commerce, cloud computing, big data, digital tracking and digital platforms that are reshaping business operations, business models and market structures. In this context, the Bank of Canada consulted with firms in wholesale, retail and logistics, as well as with related industry associations to yield insights on the adoption of digital technologies.
---
Journal Publications
Refereed journals
"Current Account Dynamics, Real Exchange Rate Adjustment and the Exchange Rate Regime in Emerging-Market Economies"
(with Olivier Gervais and Lawrence Schembri), Journal of Development Economics, Vol. 119, March 2016, p. 86-89.
Other publications
Other research