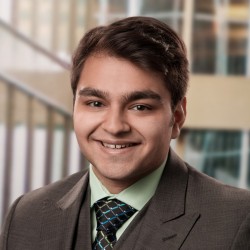 Vikram Rai
Senior Economist
M.A. Queen's University (2012)
BSc. Dalhousie University (2011)
Bio
Vikram Rai is a senior economist in the International Projection Division in the International Economic Analysis Department, which is responsible for producing and supporting the communication of the Bank's quarterly global macroeconomic outlook. His work and research has included macroeconomic modelling and forecasting, global trade, unconventional monetary policy, and labour economics. He completed his Masters in Economics at Queen's University.
---
Show all
Staff Analytical Notes
Since the global financial crisis, core inflation has been persistently below target in most advanced economies. Recently, it has weakened further in several advanced economies despite gradually diminishing slack. This note reviews recent developments in core inflation across advanced economies and identifies distinctive patterns across regions.
Staff Discussion Papers
We investigate the extent to which excess supply (demand) in labour markets contributes to a lower (higher) growth rate of average nominal wages for workers. Using panel methods on data from 10 advanced economies for 1992–2018, we produce reduced-form estimates of a wage Phillips curve specification that is consistent with a New Keynesian framework.
Staff Working Papers
The Federal Reserve's quantitative easing (QE) program has been accompanied by a flow of funds into emerging-market economies (EMEs) in search of higher returns.
---