Bank of Canada Review - Spring 2017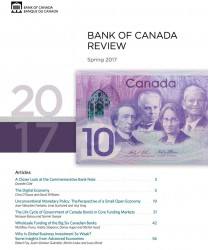 Some suggest the global economy is facing a fourth industrial revolution. Bank researchers discuss the possible implications of digitalization on the economy. This issue also shares insights on the effectiveness of some unconventional monetary policies in a small open economy, how Government of Canada bonds are used throughout their life cycle, as well as how the Big Six Canadian banks choose their funding strategies and why. The final article examines the slow growth in business investment. 
The Bank of Canada Review is published twice a year. Articles undergo a thorough review process. The views expressed in the articles are those of the authors and do not necessarily reflect the views of the Bank.
The contents of the Review may be reproduced or quoted, provided that the authors and the publication, with its date, are specifically cited as the source.