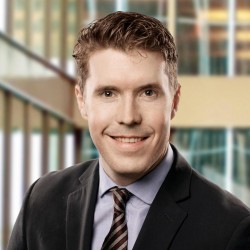 Patrick Alexander
Senior Economist
Ph.D., Queen's University
Bio
Patrick Alexander is a Senior Economist in the International Economic Analysis Department. His primary research interests include international trade, macroeconomics and applied econometrics. Patrick Alexander received his Ph.D. in Economics from Queen's University.
---
Show all
Staff Analytical Notes
This note estimates potential output growth for the global economy through 2019. While there is considerable uncertainty surrounding our estimates, overall we expect global potential output growth to rise modestly, from 3.1 per cent in 2016 to 3.4 per cent in 2019.
Staff Discussion Papers
We estimate two new equations for Canadian non-commodity exports (NCX) that incorporate three important changes relative to the current equation used at the Bank of Canada.
---
Journal Publications
Refereed journals
"Did U.S. Consumers Respond to the 2014-2015 Oil Price Shock? Evidence from the Consumer Expenditure Survey" (with Louis Poirier), forthcoming in The Energy Journal.
"Responding to the First Era of Globalization: Canadian Trade Policy, 1870–1913"
(with Ian Keay), Journal of Economy History, 2019, 79(3).
"A general equilibrium analysis of Canada's national policy"
(with Ian Keay), Explorations in Economic History, Elsevier, vol. 68(C), 2018, pages 1-15.