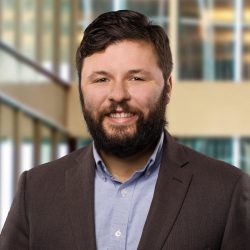 James Fudurich
Economist
MA Wilfrid Laurier University
Bio
James is an economist in the Canadian Economic Analysis department, based in the Ontario Regional Office. He conducts research and analysis on key sectors of the Ontario economy and contributes to the quarterly Business Outlook Survey.
---
Show all
Staff Analytical Notes
Firms increasingly rely on digital technologies such as e-commerce, cloud computing, big data, digital tracking and digital platforms that are reshaping business operations, business models and market structures. In this context, the Bank of Canada consulted with firms in wholesale, retail and logistics, as well as with related industry associations to yield insights on the adoption of digital technologies.
Staff Discussion Papers
Information technology (IT) is an increasingly integral part of everyday business and personal life reflecting the ongoing and accelerating digital transformation of the economy. In this paper, we present information gathered from a survey with export-oriented firms in the Canadian IT service industry and consultations with industry associations aimed at shedding light on this small but highly dynamic sector.