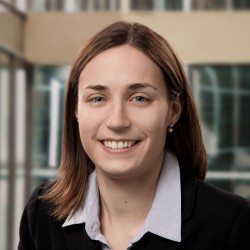 Karyne B. Charbonneau
Policy Advisor
Ph.D., Princeton University (2013)
M.A., Université de Montréal (2008)
B.Sc. (Honors), Université de Montréal (2007)
Bio
Karyne B. Charbonneau is a Policy Advisor the Canadian Economic Analysis Department at the Bank of Canada. In this capacity, she is part of the leadership team overseeing the Bank's analysis of the Canadian economy and its research on monetary policy. Her research focuses on applied econometrics and international trade.
Prior to occupying this role, she was a Principal Economist in the Real Economic Activity Division and then in the Digital Economy and Advanced Analytics Division.
She received her PhD in economics from Princeton University.
---
Show all
Staff Working Papers
We build upon new developments in the international trade literature to isolate and quantify the long-run economic impacts of tariff changes on the United States and the global economy.
This paper considers the adaptability of estimation methods for binary response panel data models to multiple fixed effects. It is motivated by the gravity equation used in international trade, where important papers such as Helpman, Melitz and Rubinstein (2008) use binary response models with fixed effects for both importing and exporting countries.
---