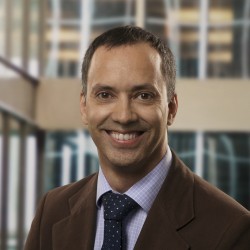 Miguel Molico
Senior Research Director
Ph.D., University of Pennsylvania (1997)
M.A., University of Pennsylvania (1994)
B.A. Economics (Licenciatura), Universidade Nova de Lisboa (1991)
Bio
Miguel Molico was appointed Senior Research Director of the Financial Stability Department (FSD) in February 2014. In this role, he is part of both the Economic and Financial Research (EFR) team  and the Financial Stability Department's senior leadership team and oversees the modelling and research divisions of FSD. He previously held the role of Director of Research in the Funds Management and Banking Department (FBD) since 2010.
Miguel primary research interests include monetary theory, monetary policy implementation, and payment systems. His research has been published in leading academic journals, including the Journal of Monetary Economics, the Journal of Economic Theory, the International Economic Review and the Journal of Money, Credit and Banking.
Prior to joining the Bank in 2006, Miguel held academic positions at the Penn State University and the University of Western Ontario. He holds a PhD in economics from the University of Pennsylvania.
---
Show all
Staff Discussion Papers
This paper reviews the Canadian and international evidence of the effectiveness of macroprudential policy measures in building resilience and mitigating financial imbalances. The analysis concludes that these measures have broadly achieved their goal of increasing the overall resilience of the financial system to the buildup of imbalances and increasing the financial system's ability to withstand adverse shocks.
Because financial and macroeconomic conditions are tightly interconnected, financial stability considerations are an important element of any monetary policy framework. Yet, the circumstances under which it would be appropriate for the Bank to use monetary policy to lean against financial risks need to be more fully specified (Côté 2014).
The authors review recent developments in retail payments in Canada and elsewhere, with a focus on e-money products, and assess their potential public policy implications.
---
Journal Publications
Refereed Journals
"Central Bank Haircut Policy," (with James Chapman and Jonathan Chiu) Annals of Finance, August 2011, 7 (3), p.319-348.
"Uncertainty, Inflation, and Welfare," (with Jonathan Chiu) Journal of Money, Credit, and Banking, 43: 487-512.
"Liquidity, Redistribution, and the Welfare Cost of Inflation," (with Jonathan Chiu) Journal of Monetary Economics, 57 (4) 2010:428-38.
"The Distribution of Money and Prices in Search Equilibrium," International Economic Review, 47 (3), 2006: 701-22.
"Indivisibilities, Lotteries, and Monetary Exchange," (with Alexander Berentsen and Randall Wright), Journal of Economic Theory, 107 (1) 2002: 70-94.
Other Publications
"A Model of Tiered Settlement",
(with J, chapman and J. Chiu), Journal of Money, credit and Banking.
"Production Synergies, Technology Adoption, Unemployment, and Wages",
(with Gwen Eudey), Finance and Economics Discussion Series, 2001-29, Federal Reserve Board, Washington, DC.