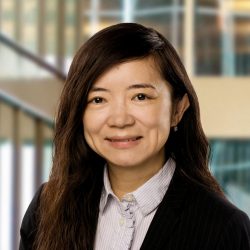 Xiangjin Shen
Senior Economist
Ph.D. Economics, Rutgers University, USA
MSc. Statistics, University of New Mexico, USA
Bio
Xiangjin Shen is a Senior Economist in the Financial Stability Department. Her policy work focus on the financial stability and macro-economic stress testing issues. Her current research interests include econometrics, monetary transmission mechanism, bank funding transfer pricing, stability of clearing agencies and tail risk. Before joining the Bank, Xiangjin worked as a Senior Manager in the Global Risk Management department at the Bank of Nova Scotia. Xiangjin received her PHD in Economics from the Rutgers University.
---
Show all
Staff Analytical Notes
The stability of the Canadian financial system, as well as its ability to support the Canadian economy, depends on the ability of financial institutions to absorb and manage major shocks. This is especially true for large banks, which perform services essential to the Canadian economy.
We use a suite of risk-assessment models to examine the possible impact of a hypothetical house price correction, centred in the Toronto and Vancouver areas. We also assume financial stress significantly amplifies the macroeconomic impact of the house price decline.
Staff Working Papers
We explore properties of asymmetric generalized autoregressive conditional heteroscedasticity (GARCH) models in the threshold GARCH (GTARCH) family and propose a more general Spline-GTARCH model, which captures high-frequency return volatility, low-frequency macroeconomic volatility as well as an asymmetric response to past negative news in both autoregressive conditional heteroscedasticity (ARCH) and GARCH terms.
---
Journal Publications
Refereed journals
"Procyclicality Mitigation for Initial Margin Models with Asymmetric Volatility"
(with Elena Goldman), Journal of Risk, 2020, upcoming.
"Comparison of Bayesian Model Selection Criteria and Conditional Kolmogorov Test as Applied to Spot Asset Pricing Models"
(with Hiroki Tsurumi), Communications in Statistics - Theory and Methods, 2013, 42(9):1599-1617.
"Does Aggregate School-Wide Achievement Mediate 5th Grade Outcome for Former Early Childhood Education Participants?"
(with Stephanie Curenton and Nianbo Dong), Developmental Psychology, 2015, 51(7):921-934.