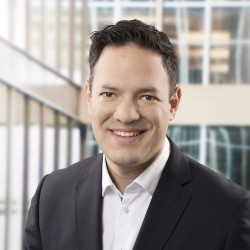 Francisco Rivadeneyra
Research Advisor
Ph.D., Economics. The University of Chicago (2009)
M.A., Economics. The University of Chicago (2005)
B.A., Economics. ITAM, Mexico City (2003)
Bio
Francisco Rivadeneyra is a Research Advisor in the Funds Management and Banking Department at the Bank of Canada. His research is broadly divided into financial economics and payments research. He is interested in how agent heterogeneity and payments infrastructure affect asset prices and welfare. His recent academic research focuses on the implications of technological innovations, for example electronic money and distributed ledger technologies, for the mandates of central banks. His recent policy work has been to develop computational tools to measure the risk and efficiency of payments systems. Earlier work focused on the management of domestic debt and foreign reserves portfolios.
Mr. Rivadeneyra holds a PhD in Economics from the University of Chicago.
---
Show all
Staff Analytical Notes
Improving the conduct of monetary policy is unlikely to be the main motivation for central banks to issue a central bank digital currency (CBDC). While some argue that a CBDC could allow more complex transfer schemes or the ability to break below the zero lower bound, we find these benefits might be small or difficult to realize in practice.
Staff Working Papers
Should a central bank take over the provision of e-money, a circulable electronic liability? We discuss how e-money technology changes the tradeoff between public and private provision, and the tradeoff between e-money and a central bank's existing liabilities like bank notes and reserves.
This paper presents a general equilibrium model with endogenous collateral constraints to study the relationship between financial development and business cycle fluctuations in a cross-section of economies with different sizes of their financial sector.
---
Journal Publications
Journal articles
"Government Bond Clienteles and Yields"
(with Jianjian Jin and Jesus Sierra), In Advances in the Practice of Public Investment Management, Palgrave, 2018
"Financial Development, Credit, and Business Cycles"
(with Tiago Pinheiro and Marc Teignier), Journal of Money, Credit and Banking, 2017, 49 (7), 1653-1665.
"Monopolies and Economic Growth" (in Spanish)
(with Pablo Pena), Gaceta de Economía, Fall 2009.
"An Empirical Analysis of the Law of One Price in Mexico" (in Spanish)
(with Marco González-Navarro), Gaceta de Economía, Fall 2004.

"Trade Creation and Trade Diversion of Preferential Agreements: New Estimates for NAFTA" (in Spanish)
(with Jose M. Chavez), Gaceta de Economía, Spring 2002.
Work in progress
"Payments System Design Using Reinforcement Learning"
(with Ajit Desai, Hand Du and Rod Garratt).
"E-Money and Payments Policy"
(with Charles M. Kahn and Russell Wong).
"Intraday Trade Dynamics in Short-term Funding Markets"
(with Mark Rempel).
"Foreign Reserves and Tail Risk"
(with Jorge Cruz Lopez).