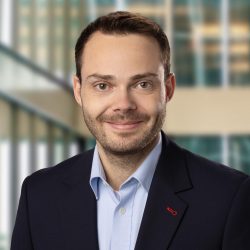 André Stenzel
Senior Economist
Ph.D., University of Mannheim (2015)
Bio
André is a Senior Economist in the Currency Department/Economic Research and Analysis at the Bank of Canada. He is an Applied Microeconomic Theorist whose research focusses on Industrial Organization and Financial Economics.
---
Show all
Journal publications
Journal Articles
"Opacity, Liquidity and Disclosure Requirements"
(with Wolf B. Wagner) in Journal of Business Finance and Accounting, vol. 49 – issue 5-6, p. 658-689, May-June 2022.
"Model-Based Evaluation of Cooling-Off Policies"
(with Christian Michel) in Games and Economic Behavior, vol. 129, p. 270-293, September 2021.
"Security Design with Interim Public Information"
in Journal of Mathematical Economics, vol. 76, p. 113-130, May 2018.
Conference Proceedings
---