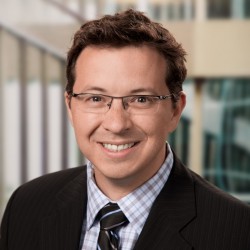 Daniel de Munnik
Director
M.A., McMaster University (2003)
B.Sc. (Honours), University of King's College/Dalhousie University (2002)
Bio
Daniel de Munnik was appointed Director of the Canadian Economic Analysis (CEA) Department's Real Economic Activity Division in February 2016. In this capacity, he is responsible for the evolution of Canadian real GDP in the short run.
Daniel joined the Bank in 2003 as an economist in the Regional Analysis Division's Atlantic Regional Office (CEA). In 2010, he joined the Canadian Projection and Policy Analysis Division's monitoring team where he was later appointed Principal Researcher. His research efforts have been related to Canadian international trade, labour market dynamics (migration), and business conditions survey design. In addition to his work at the Bank, Daniel has also worked as an Instructor for the Economics Department at Dalhousie University (Halifax) from 2006 to 2014.
Born in Orillia, Ontario, Daniel has a master's degree in economics from McMaster University (Hamilton).
---
Show all
---
Journal Publications
Refereed journals
"Assessing the Accuracy of Non-random Business Conditions Surveys: A Novel Approach"
(with Mark Illing and David Dupuis), Journal of the Royal Statistical Society: Series A (Statistics in Society), vol. 176, p. 371-388, 2013.
"What Drags and Drives Mobility: Explaining Canada's Aggregate Migration Patterns"
(with David Amirault and Sarah Miller), Canadian Journal of Economics, Volume 49, Issue 3, pages 1035-1056, August 2016.
Books
"Micro Foundations of Price-Setting Behaviour: Evidence from Canadian Firms"
(with Kuan Xu) In Monetary Policy: Roles, Forecasting and Effects, edited by Yasuo Nishiyama, New York: NOVA Science Publishers, p. 1-50, 2012.