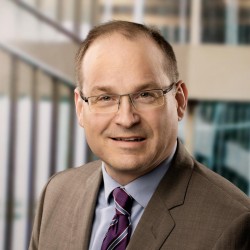 David Amirault
Regional Director, Economics
Bio
David Amirault was appointed Regional Director (Economics) at the Bank of Canada's Regional Office for the Atlantic Provinces in 1999. In this capacity, he directs research and analysis on economic and financial developments in the region. He also plays a major role in the Office's activities in communicating the Bank's messages to a variety of external audiences and promoting an exchange of views on the economy and monetary policy. His areas of research interest include labour markets, foreign direct investment, migration trends, regional issues, business surveys, and price and wage rigidities.
Born in Yarmouth, Nova Scotia, Mr. Amirault graduated with a Bachelor of Commerce degree (Honours Economics) from Saint Mary's University in 1990. He then pursued graduate studies in Economics, attaining his master's degree at the University of Western Ontario in 1991.
After his studies, Mr. Amirault worked for the Atlantic Provinces Economic Council (APEC) in Halifax for seven years. He successively held the positions of Economist, Senior Economist, and Director of Research. Mr. Amirault also taught macroeconomics at the Frank H. Sobey Faculty of Commerce at Saint Mary's University in Halifax from 1993 to 2004. He was President of the Atlantic Association of Applied Economists (AAAE) from 2002 to 2011 and he sat on the Board of Directors of the Canadian Association for Business Economics (CABE) from 2011 to 2015.
---
Show all
Staff Analytical Notes
Shocks to a currency area can and often do have asymmetric impacts on its regions that, in the absence of perfect labour mobility, lead to gaps in relative labour market performance. Witness, for example, the effects of the 2008/09 recession and subsequent financial crisis in Europe on the dispersion of employment rates across the euro area – and to a lesser extent the United States.
Staff Discussion Papers
Since 1997, the Bank of Canada's regional offices have been conducting the Business Outlook Survey (BOS), a quarterly survey of business conditions. Survey responses are gathered through face-to-face, confidential consultations with a sample of private sector firms representative of the various sectors, firm sizes and regions across Canada.
The Bank of Canada conducted a Wage Setting Survey with a sample of 200 private sector firms from mid-October 2007 to May 2008. Results indicate that wage adjustments for the Canadian non-union private workforce are overwhelmingly time dependent, with a fixed duration of one year, and are clustered in the first four months of the year, suggesting that wage stickiness may not be constant over the year.
Staff Working Papers
Using census data at the economic region level from 1991 to 2006 and a gravity model framework, this paper examines the factors that influence migration within Canada.
In many mainstream macroeconomic models, sticky prices play an important role in explaining the effects of monetary policy on the economy.
This paper surveys the literature on the zero bound on the nominal interest rate. It addresses questions ranging from the conditions under which the zero bound on the nominal interest rate might occur to policy options to avoid or use to exit from such a situation. We discuss literature that examines historical and country evidence, and literature that uses models to generate evidence on this question.
---