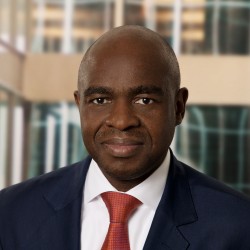 Césaire Meh
Senior Research Officer
Ph.D., University of Western Ontario (2001)
M.A., Université Laval (1996)
BSc. Computer Science, Institut Supérieur de l'Enseignement Technique (1993)
Bio
Césaire Meh was appointed Senior Research Officer of Economic and Financial Research, effective November 1, 2017. In this capacity, he provides intellectual leadership to Bank-wide research, especially on issues related to the nexus between monetary policy and financial stability and to macroprudential policies. He has published extensively in peer-refereed journals and was recently a Visiting Research Scholar at Princeton University.
Most recently, Mr. Meh was the Managing Director of the International Economic Analysis Department. There, he was responsible for the management and strategic direction of the department, for providing policy advice and analysis on global economic and financial developments, and for participating in various international policy forums such as the G20, G7 and International Monetary Fund. He has represented the Bank in the G20 Framework Working Group, the Macroprudential Supervision Group of the Basel Committee on Banking Supervision (BCBS) and the Macroeconomic Assessment Group of the Financial Stability Board. For the latter, he led the production of the Bank of Canada report, Strengthening International Capital and Liquidity Standards: A Macroeconomic Impact Assessment for Canada. He also chaired the workstream on the implementation of the Basel III countercyclical capital buffer.
Mr. Meh joined the Bank in 2001 as an economist in the former Monetary and Financial Analysis Department (MFA). He increasingly assumed greater responsibilities in his roles as Principal Researcher, Assistant Director of the monetary financial modelling division in MFA, Senior Research Director in the Canadian Economic Analysis Department and Senior Policy Director in the Financial Stability Department (FSD). He was then named the Deputy Managing Director of FSD, where he assisted the Managing Director in the management of the department and oversaw FSD's contributions to the Bank's semi-annual Financial System Review and the work on bail-ins of large Canadian banks, as well as its support for the Bank in its role as lender of last resort.
Mr. Meh's research has focused on bank capital in macroeconomic models, the nexus between financial stability and monetary policy; the design of macroprudential policies; the distributional consequences of monetary policy; the mix between monetary, fiscal and macroprudential policies; and, more recently, fintech.
Born in Yamoussoukro, Ivory Coast, Mr. Meh holds a PhD in economics from Western University and a master's degree in economics from Université Laval.
---
Show all
Staff Discussion Papers
The authors use microdata from the 1999 and 2005 Surveys of Financial Security to identify changes in household debt, and discuss their potential implications for monetary policy and financial stability. They document an increase in the debt-income ratio, which rose from 0.75 to 0.95, on average.
---
Journal Publications
Refereed journals
"Macroprudential Rules and Monetary Policy when Financial Frictions Matter"
(with Jeannine Bailliu and Yahong Zhang), Economic Modelling, November 2015, Vol. 50, p. 148-161.
" Aggregate and Welfare Effects of Redistribution of Wealth under Inflation and Price-level Targeting,"
(with Yaz Terajima and Victor Rios-Rull). Journal of Monetary Economics, 57 (6), 2010: 637-652.
"Inflation, Nominal Portfolios and Wealth Redistribution in Canada,"
(with Yaz Terajima). Canadian Journal of Economics, forthcoming
"Financial Intermediation, Liquidity and Inflation,"
(with Jonathan Chiu). Macroeconomic Dynamics, 15: 83-118, 2011.
"Innovation and Growth with Financial, and other, Frictions"
(with Jonathan Chiu and Randall Wright) in International Economic Review, Forthcoming.
"The role of bank capital in the propagation of shocks,"
(with Kevin Moran). Journal of Economic Dynamics and Control, 34, 2010: 555-576
"Uncertainty and the Specificity of Human Capital,"
(with Martin Gervais and Igor Livshits). Journal of Economic Theory, 143(1), 2008: 469-498.
"Business Risk, Credit Constraints, and Corporate Taxation,"
Journal of Economic Dynamics and Control, 32(9), 2008: 2971-3008.
"Endogenous Incomplete Markets With Investment Risks,"
(with Vincenzo Quadrini) Journal of Economic Dynamics and Control, 30(11), 2006: 2143-2165.
"Entrepreneurship, Wealth Inequality, and Taxation"
Review of Economic Dynamics, 8(3), 2005: 688-719.
Other publications
"Essays in Entrepreneurship and Taxation".
Doctorate Dissertation, University of Western Ontario, May 2001."Cycle économique dans une petite économie ouverte: cas du Canada."
Master's Dissertation, Université Laval, August 1996.
Other research papers
"Bank Leverage Regulation and Macroeconomics Dynamics,"
(with Kevin Moran). Manuscript, June 2010.
"Countercyclical Loan-to-Value Ratios and Monetary Policy"
(with Ian Christensen). Manuscript, June 2010.
"Optimal Monetary Policy and Macrofinancial Risk: Should Monetary Policy Respond to Emerging Financial Imbalances?"
(with Jeannine Bailliu and Yahong Zhang). Manuscript, September 2010.
Research in progress
"Inflation, Demand for Liquidity, and Welfare,"
(with Shutao Cao, Victor Rios-Rull and Yaz Terajima)
"Effects of Funding Portfolios on Credit Supplies of Canadian Banks,"
(with Evren Damar and Yaz Terajima)
"Firm Size, Technology Adoption Costs and Aggregate Productivity,"
(with Danny Leung and Yaz Terajima).
"Price Stability and Nominal Debt,"
(with Vincenzo Quadrini and Yaz Terajima).