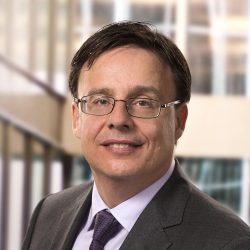 Donald Coletti
Advisor
M.A., University of Western Ontario (1988)
B.A. (Honours), University of Western Ontario (1987)
Bio
Don Coletti was appointed Advisor to the Governor effective 26 August 2013. He is responsible for financial system issues, including vulnerabilities, reforms and market dynamics, and their implications for financial stability and monetary policy.
Before becoming an Advisor, Mr. Coletti was Chief of the Bank's International Economic Analysis Department, a position he held from September 2010. In this capacity, he managed the activities of the department, which include analyzing current and prospective developments in foreign countries and commodity prices, as well as providing analysis and policy advice on global economic and financial issues. He also guided the conduct of in-depth research on topics related to international financial markets and the global economy.
Mr. Coletti rejoined the Bank in 2000 after two years at the Department of Finance. He has held a number of senior positions, including Research Director for both the International and Research departments and Assistant Chief for Canadian Projections and Model Development. From 2008 until 2010, he was Deputy Chief of the Bank's Canadian Economic Analysis Department.
Mr. Coletti obtained both a bachelor of arts and a master's degree in economics at the University of Western Ontario.
---
Show all
---
Journal Publications
Other publications
"Constructing the Staff Economic Projection at the Bank of Canada"
In: Practical Experience with Inflation Targeting, proceedings of a conference held by the Czech National Bank. May 2004.
"Empirical Estimation and the Quarterly Projection Model: An Example Focussing on the External Sector"
(with Robert Amano and Stephen Murchison), Sveriges Riksbank Working Paper No. 104.