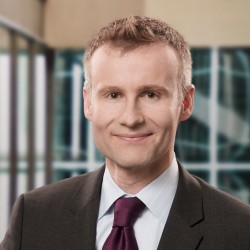 Charles Gaa
Director
BAH in Economics, Queen's University
MA in Economics and Finance, University of Alberta
PhD in Finance, University of British Columbia
CFA charterholder
Bio
Charles Gaa is Director in the Financial Stability Department of the Financial Institutions Division. He first joined the Bank of Canada in 1999 as an Analyst in the Financial Markets Department, where he worked for four years before leaving to continue his studies. Prior to re-joining the Bank of Canada in 2013, he was an Assistant Professor of Finance at the University of Oregon. Charles is a Chartered Financial Analyst (CFA) and holds a PhD in Finance from the University of British Columbia.
---
Show all
Staff Analytical Notes
The stability of the Canadian financial system, as well as its ability to support the Canadian economy, depends on the ability of financial institutions to absorb and manage major shocks. This is especially true for large banks, which perform services essential to the Canadian economy.
Staff Working Papers
The authors contrast the impact of two sources of information flow on the volatility of prices, trading activity, and liquidity in the brokered interdealer market for Government of Canada bonds.
The authors empirically measure Canadian bond market liquidity using a number of indicators proposed in the literature and detail, for the first time, price and trade dynamics in the Government of Canada secondary bond market. They find, consistent with Inoue (1999), that the Canadian brokered interdealer fixed-income market is relatively liquid for its size.
This paper investigates the effects of the continuation of globalization and technological developments on the future of national-level financial markets and trading centres, particularly in smaller countries such as Canada. We foresee the development of a single global market in the most-liquid assets based on equity-market linkages.