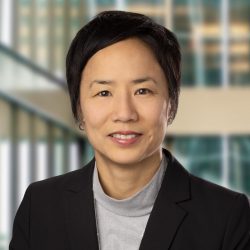 Calista Cheung
Regional Director (Economics)
Bio
Calista Cheung was appointed as Regional Director (Economics) at the Bank of Canada's Regional Office for British Columbia and the Yukon in June 2014. In this capacity, she directs research and analysis on economic and financial developments in the region. She also plays a major role in communicating the Bank's messages to a variety of external audiences and promoting an exchange of views on the economy and monetary policy.
Ms. Cheung first joined the Bank in 2003 as an economist in the Current Analysis Division of the Research Department and then became a senior analyst in the Asia-Europe Division of the International Department. She moved to the Organisation for Economic Co-operation and Development (OECD) in Paris in 2009 as an economist in the Economics Department and was subsequently promoted to senior economist there. Ms. Cheung has also worked at the European Central Bank in a secondment, and at the Federal Reserve Bank of Boston as a research intern.
Ms. Cheung was born in Ottawa. She received a Master's degree in Economics from Boston University and a Bachelor of Commerce with Joint Honours in Economics and Finance from McGill University.
---
Show all
Staff Analytical Notes
This note reviews the channels through which scheduled minimum wage increases over the coming years may affect Canadian economic activity and inflation and assesses their macroeconomic impacts. From reduced-form estimates of direct minimum wage pass-through, we find that consumer price index (CPI) inflation could be boosted by about 0.1 percentage point (pp) on average in 2018.
Staff Working Papers
Over the past 5 years, real energy and non-energy commodity prices have trended sharply higher. These relative price movements have had important implications for inflation and economic activity in both Canada and the rest of the world. China has accounted for the bulk of incremental demand for oil and many base metals over this period.
This paper evaluates the performance of static and dynamic factor models for forecasting Canadian real output growth and core inflation on a quarterly basis. We extract the common component from a large number of macroeconomic indicators, and use the estimates to compute out-of-sample forecasts under a recursive and a rolling scheme with different window sizes.
---
Journal Publications
Refereed Journal
Other Research Papers