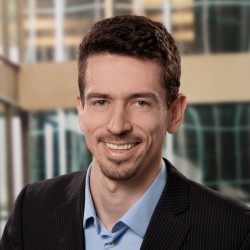 Christian Friedrich
Principal Researcher
Ph.D., Graduate Institute Geneva (2013)
Bio
Christian Friedrich is a Principal Researcher in the International Economic Analysis Department at the Bank of Canada. His research interests are located in the fields of international macroeconomics and international finance. Christian Friedrich holds a Ph.D. in International Economics from the Graduate Institute in Geneva, Switzerland.
---
Show all
Staff Discussion Papers
In this paper, we analyze the presence of time variation in the pass-through from the nominal effective exchange rate to import prices for 24 advanced economies over the period 1995–2015. In line with earlier studies in the literature, we find substantial heterogeneity in the level of exchange rate pass-through across countries.
The 2007–09 global financial crisis has led policy-makers around the world, including central banks, to refocus their efforts to promote financial stability. As part of this process, central banks became quite active in supporting financial stability in a variety of ways, such as publicly sharing their assessments of financial system vulnerabilities and risks and helping to strengthen regulation, supervision and macroprudential measures.
---
Journal Publications
"The Dynamics of Capital Flow Episodes"
(with P. Guérin), Journal of Money, Credit and Banking, forthcoming.
"Monetary Policy and Financial Stability: Cross-Country Evidence"
(with K. Hess and R. Cunningham), Journal of Money, Credit and Banking, forthcoming.
"International Monetary Policy Transmission through Banks in Small Open Economies"
(with S. Auer, M. Ganarin, T. Paligorova and P. Towbin), IBRN Special Issue, Journal of International Money and Finance, 90, 34-53, 2019.
"Macroprudential Policies, Capital Flows, and the Structure of the Banking Sector"
(with J. Beirne), Journal of International Money and Finance, 75, 47-68, 2017.
"Global inflation dynamics in the post-crisis period: What explains the puzzles?"
Economic Letters, 142, 31-34, May 2016.
"Financial integration and growth - Why is Emerging Europe different?"
(with I. Schnabel and J. Zettelmeyer), Journal of International Economics, 89(2), 522-538, 2013.