Bank of Canada Review - Spring 2015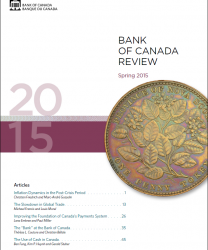 In this issue, Bank researchers discuss inflation dynamics and global trade following the 2007–09 financial crisis. Other articles explore changes to the governance and regulation of the Canadian payments system and outline the banking services provided by the Bank of Canada. Finally, the results of the 2013 Methods-of-Payment Survey are presented.
The Bank of Canada Review is published twice a year. Articles undergo a thorough review process. The views expressed in the articles are those of the authors and do not necessarily reflect the views of the Bank.
The contents of the Review may be reproduced or quoted, provided that the authors and the publication, with its date, are specifically cited as the source.