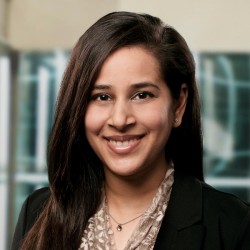 Monica Jain
Principal Economist
Ph.D. (Economics), Queen's University
M.A. (Economics), University of British Columbia
B.B.A. (Management & Economics), University of Toronto
Bio
Monica Jain is a Principal Economist in the Monetary Policy Analysis and Research division of the Financial Markets Department at the Bank of Canada.
Prior to joining the Financial Markets Department in April 2015, she was a Senior Economist in the Canadian Economic Analysis Department.
Monica is an applied macroeconomist whose research and policy work has focused on a range of issues related to inflation, inflation expectations and central bank communications.
Monica obtained an MA in Economics from the University of British Columbia and a PhD in Economics from Queen's University.
---
Show all
Staff Working Papers
Given the influence that agents' expectations have on key macroeconomic variables, it is surprising that very few papers have tried to extrapolate agents' "true" expectations directly from the data. This paper presents one such approach, starting with the hypothesis that there is sluggishness in inflation and real GDP growth forecasts.
We construct a 23-country panel data set to consider the effect of central bank projections and forward guidance on private-sector forecast disagreement. We find that central bank projections and forward guidance matter mainly for private-sector forecast disagreement surrounding upcoming policy rate decisions and matter less for private-sector macroeconomic forecasts.
The Survey of Professional Forecasters (SPF) has had vast influence on research related to better understanding expectation formation and the behaviour of macroeconomic agents. Inflation expectations, in particular, have received a great deal of attention, since they play a crucial role in determining real interest rates, the expectations-augmented Phillips curve and monetary policy.
---