Bank of Canada Review - Autumn 2016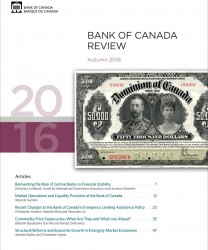 What is the role of central banks in financial stability? How has this role changed in recent years? Bank researchers share their insights on this matter and provide an overview of recent changes the Bank has made to its Emergency Lending Assistance Policy. Researchers also provide a history of four major commodity supercycles, dating back to the early 1900s. Finally, there is discussion about structural reforms in emerging-market economies, such as China, and how these reforms influence potential growth.
The Bank of Canada Review is published twice a year. Articles undergo a thorough review process. The views expressed in the articles are those of the authors and do not necessarily reflect the views of the Bank.
The contents of the Review may be reproduced or quoted, provided that the authors and the publication, with its date, are specifically cited as the source.