Managing the Bank
Throughout 2021, the Bank closely monitored the COVID‑19 pandemic. In autumn, following widespread vaccination across Canada, the Bank was able to begin transitioning out of a crisis-response mode. As part of this work, the Bank made significant progress in designing and planning its post-pandemic work environment.
At the same time, the Bank remained focused on enhancing its resilience and continuing its digital transformation. These efforts will ensure it remains a leading central bank, ready to take on the future of work in an increasingly digital world.
Launching the Bank's new values and promise to Canadians
In 2021, the Bank shared its updated core values with staff and developed a new promise statement to anchor them: Canadians count on us. The Bank's core values are:
think ahead
include everyone
inspire confidence
These values are built on the principles that have always guided the Bank: excellence, integrity and respect. They will support the Bank's vision and culture and will be linked to every aspect of the Bank's work—not only the work that all Canadians see, but also the way Bank staff do their work and collaborate every day.
Through the year, the Bank's refreshed values were embedded in its leader and core competencies, Code of Business Conduct and Ethics and related learning programs. They were also used to develop the 2022–24 strategic plan, which places significant focus on people.
Focusing on our people
Named in 2021 as one of Canada's Top 100 Employers for the 12th consecutive year, the Bank prides itself on a people-first philosophy and a top-notch work environment. In 2021, the Bank was also recognized as one of:
Canada's Top Family-Friendly Employers
Canada's Best Diversity Employers
the National Capital Region's Top Employers
We're honoured to be named a top diversity employer for 2021 and proud that the steps we take to be diverse and inclusive make us a leading central bank. To join our team, see our current job opportunities: http://ow.ly/cj5f50DMSbF March 2, 2021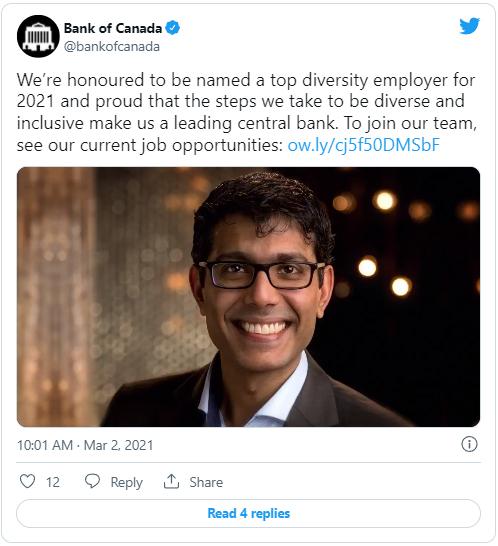 https://twitter.com/bankofcanada/status/1366765555286482944
Adopting new ways of working
In April, Governor Macklem announced that after the pandemic the Bank will adopt a hybrid workplace model. This approach was developed following extensive benchmarking and consultations with employees.
While most Bank staff continued working remotely throughout 2021, the Bank took important steps to support staff and prepare them for a safe and productive return to the office in 2022.
The Bank:
continued to invest in employees' mental health—including through enhanced policies and benefits—and offered additional financial support to enable employees to improve their home offices
engaged staff in designing their post-pandemic work environment and provided communications, coaching and resources to prepare them for the return to onsite work
began adapting its physical spaces and technologies to support new ways of working
implemented a mandatory vaccination policy and verification process in line with federal government directives
Evolving the Bank's diverse workforce
The Bank implemented a range of initiatives in this final year of its first diversity and inclusion strategy. Efforts included:
improving representation of employees from designated groups under the Employment Equity Act, including persons with disabilities (up from 5.2% of staff in 2020 to 7.7% in June 2021) and racialized persons (up from 26% in 2020 to 29.7% in June 2021)
awarding its first scholarship for members of racialized groups, with two recipients selected from over 1,000 applicants in the award's inaugural year
introducing training on conscious inclusion and Indigenous cultural awareness for all employees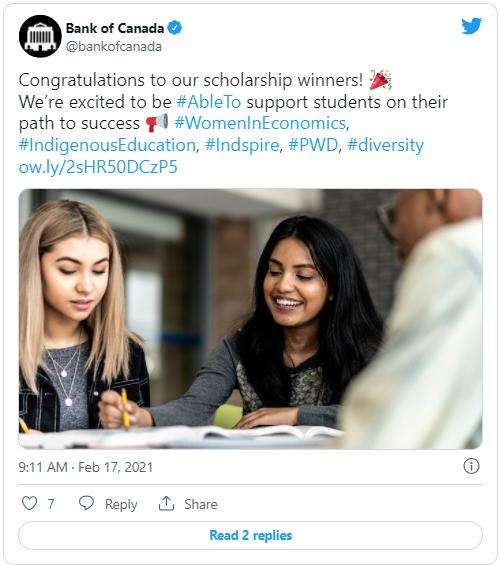 https://twitter.com/bankofcanada/status/1362042093611470849
On September 30, the Bank observed Canada's first National Day for Truth and Reconciliation. Activities included a blog post by embRACE—an employee resource group of Black, other racialized and Indigenous employees and their allies—about the importance of reconciliation.
The Bank continued its role as an international leader in diversity and inclusion. Along with other central bank partners, it co-hosted a virtual conference on diversity and inclusion in economics, finance and central banking. The Bank of Canada and the other G7 central banks also committed to working proactively to improve diversity and inclusion within their own organizations and their financial systems.1
With an eye to the future, the Bank enlisted the help of employees in the development of a new diversity and inclusion strategy for 2022–24.
Happy #Pride Month! We're proud to stand with our LGBTQ2S+ colleagues as we work towards creating a more equitable and inclusive workplace where everyone feels comfortable being their true selves.June 18, 2021
https://twitter.com/bankofcanada/status/1405888950888247302
Enhancing resilience and preparing for what lies ahead
Despite many pandemic-related challenges, staff remained resilient in 2021. They focused on core work, made progress on major initiatives and ensured that operations continued to run smoothly. Through their efforts, the Bank was able to deliver on its mandate.
Throughout the year, the Bank:
continued to reinforce the resilience of its systems and tools
strengthened its cyber security capabilities
advanced its digital transformation
persisted in reducing its environmental impact
The Bank's innovative approach to integrating digital technologies into its operations is an important part of what makes it a leading central bank.2
Enhancing the systems and tools that support operations
Significant effort was made to support and maintain the Bank's operational systems. In addition, the Bank completed several resilience initiatives and evergreening activities to further enable effective monitoring and management of its critical systems. It also provided new collaboration, networking and other tools to ensure employees working from home could remain engaged and effective.
At the same time, it began implementing the required tools and technical support that will be key to the new ways of working in a hybrid approach.
Strengthening the Bank's cyber security posture
The Bank enhanced its resilience capabilities to manage cyber security risks to the Bank itself and to the Canadian financial system.
Internally, the Bank developed a new cyber security strategy. Given the competitiveness of the cyber security labour market, attracting and retaining diverse and qualified employees remained a focus.
Externally, the Bank continued its work with the Canadian Financial Sector Resiliency Group—a public-private partnership that brings together Canada's systemically important financial institutions and regulators. In 2021, the group developed and tested a crisis coordination playbook.
The Bank also continued to lead the cyber-related work of the Resilience of Wholesale Payments Systems (RWPS) initiative with Canada's six largest commercial banks and Payments Canada. The RWPS conducted regular cyber exercises and worked with financial sector participants to complete two self-assessments of the wholesale payments system's controls.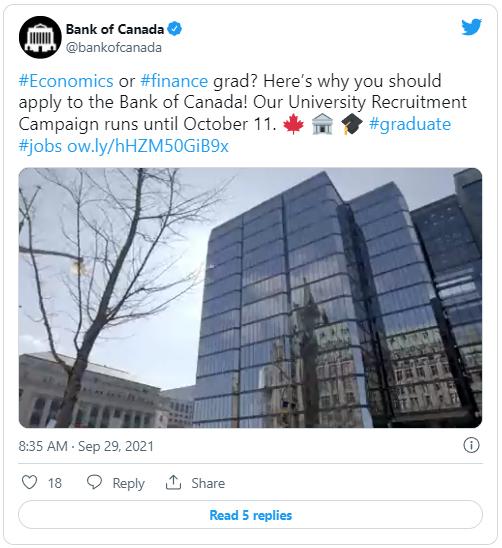 https://twitter.com/bankofcanada/status/1443192802817478669
The Bank's digital transformation
The Bank continued to implement its digital transformation strategy and enhance its data and analytics capabilities. Staff used automation and advanced analytics to:
improve key processes and tools
develop dashboards for decision makers
enhance reporting
As part of this work, staff used digital technologies to modernize monitoring and projection activities and streamline processes that support monetary policy decisions.
The Bank continued to update its data and information platforms and tools, while at the same time enhancing its data capabilities and expertise. One such activity was establishing a new data lake, which will improve the Bank's ability to leverage a wide variety of data.
In addition, among its new learning programs, the Bank launched one to enhance data literacy for leaders. This was in response to the results of a 2020 strategic workforce planning exercise that identified critical skills for the future.
The Bank also renewed its cloud strategy and furthered its transition to cloud-based services, as appropriate, in a secure and resilient manner. Notably, it made public cloud-computing platforms the preferred deployment model for all information technology services. This approach enables the Bank to deliver new digital platforms and services to employees, while ensuring its infrastructure remains agile enough to continue meeting business needs well into the future.
Greening the Bank's operations
The Bank took important steps in 2021 to measure and reduce its carbon footprint as well as to integrate climate change into planning and decision making.
Looking forward
In 2022, the Bank will:
implement its new hybrid workplace model and:

support staff through their return to onsite work by offering training, technologies and other resources
monitor the impact on the Bank's work environment and culture

complete a thorough review of relevant Bank policies to ensure they are aligned with diversity and inclusion and new ways of working
continue to provide employees with opportunities to develop key skills for the future
begin implementing the 2022–24 diversity and inclusion strategy and move forward on new pay equity regulations
continue to work with central bank partners to promote diversity and inclusion, and host the next conference on diversity and inclusion in economics, finance and central banking
transition business-critical applications to the Bank's new secure information technology infrastructure
expand the use of data and digital technologies throughout the Bank