Preparing for a central bank digital currency
In 2021, the Bank continued to build its capacity for issuing a central bank digital currency (CBDC)—a digital form of money the central bank would make available to all Canadians. Given that legislative amendments would be required, any decision to issue a CBDC in Canada ultimately rests with Parliament. And, although no such decision has been made, the Bank is committed to being ready to issue a CBDC should the need arise.
As part of this commitment, the Bank made progress in several areas.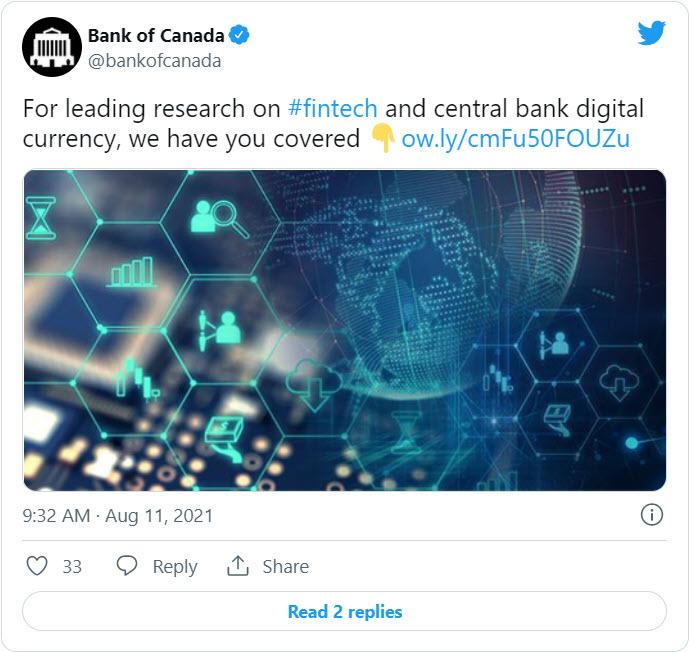 https://twitter.com/bankofcanada/status/1425450168728625153
Improving technical understanding of possible designs
The anticipated features of a CBDC—universal accessibility, privacy, compliance, security and resilience—would be challenging to achieve. In 2021, the Bank made progress on the possible conceptual and technical designs of a CBDC. Collaborating with academics and specialists, the Bank investigated novel technologies, such as advances in cryptography, to:
balance privacy with compliance requirements
achieve the highest degree of security
This work must consider the pace of technological development, including the possibility that, in the future, quantum computers could challenge current security techniques.
The Bank also focused on expanding its expertise on accessibility issues. That's because the Bank strives to ensure that all Canadians—regardless of their personal circumstances—could use a CBDC if they wanted to. And it engaged three project teams from Canadian universities to develop fresh ideas on CBDC design independently of the Bank.
Monitoring the evolution of the Canadian payments landscape
Overseeing the rapidly evolving payments system helps the Bank determine whether the need to issue a CBDC might arise. This includes keeping track of new forms of digital money, such as stablecoins and CBDCs issued in other countries. In 2021, the Bank established a framework to support this process.
To reinforce its currency and payments functions, the Bank regularly conducts research exploring the Canadian payments landscape. This includes ongoing work to understand the:
demand for and use of cash
potential implications of a CBDC
use and evolution of digital currencies and financial technologies (fintech)
Through models and laboratory experiments, staff conducted research on two-sided payment markets. This work will help the Bank estimate the likelihood of adoption of a CBDC. Researchers also used survey and administrative data as well as non-traditional data sources to better understand how a CBDC would compare with cash.
Toward the end of 2021, the Bank launched a project to explore the potential value proposition of a CBDC for consumers. This work reflects the Bank's ongoing commitment to ensure Canadians have an opportunity to share their views on this issue.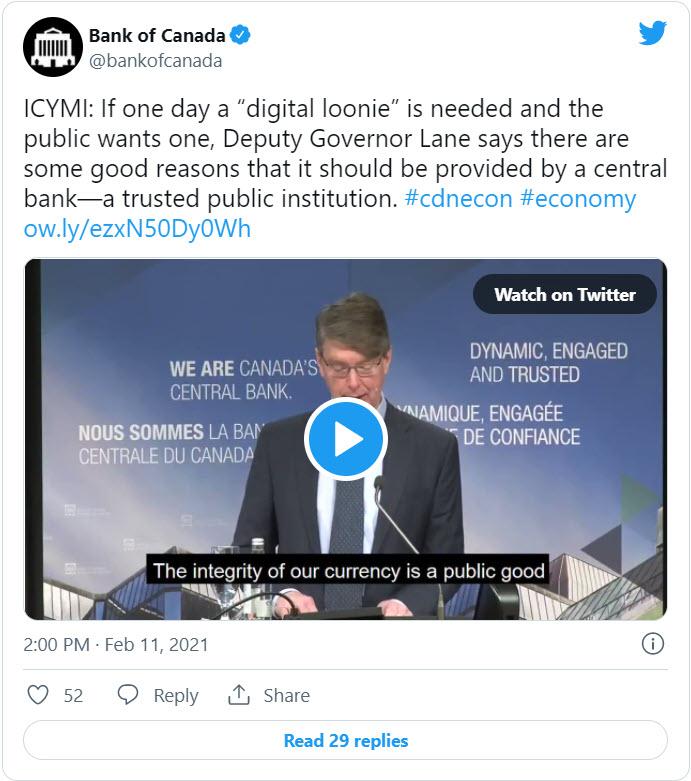 https://twitter.com/bankofcanada/status/1359940459125239811
Engaging with federal institutions and financial sector stakeholders
As part of its preparation, the Bank worked closely with the Department of Finance Canada to consult with:
relevant Government of Canada departments
other federal government agencies
a range of financial institutions
This outreach, although still in the early stages, is helping the Bank improve its understanding of the broader implications of a CBDC—including for the financial sector.
ICYMI: We are working with the Bank for International Settlements and 6 central banks to explore central bank digital currencies for the public. Read about our latest work: https://t.co/qa5VupX8vi

— Bank of Canada (@bankofcanada) October 1, 2021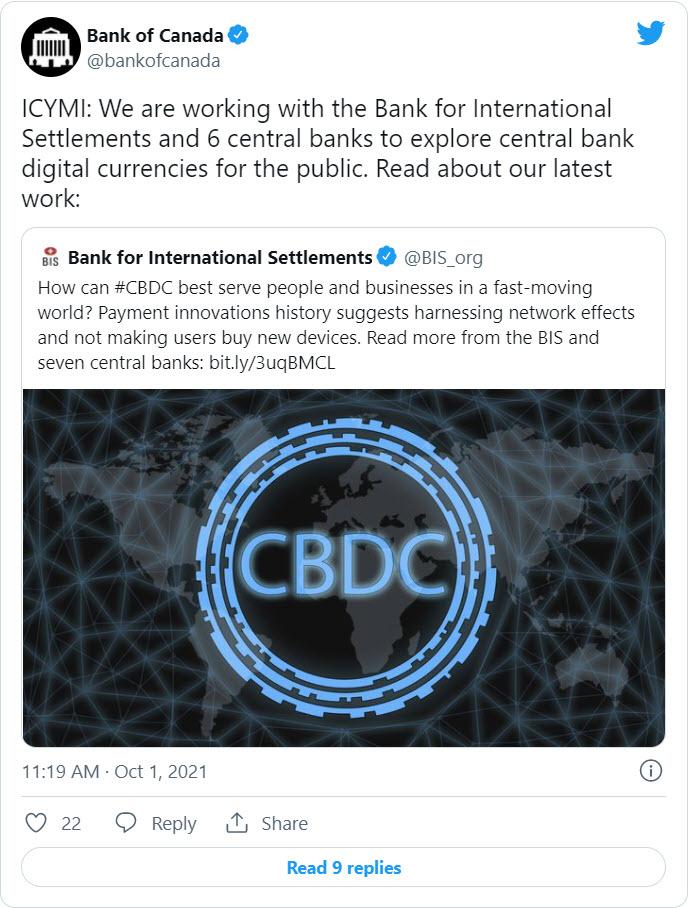 https://twitter.com/bankofcanada/status/1443958883005960192
Contributing to international planning and dialogue
The Bank made important contributions in 2021 to international discussions about CBDCs. It continued its work with a coalition of other central banks and the Bank for International Settlements to identify and reflect on the most effective design elements of a CBDC. These discussions led to the publication of three reports in September on:
In addition, this same group of central banks worked with their finance ministry counterparts on the publication of a:
Looking forward
In 2022, the Bank will:
continue research and analysis to better understand the potential benefits and risks of issuing a CBDC.
engage further with external stakeholders to gather their views, and conduct research on the public's awareness and understanding of issues associated with CBDCs.
further its technical investigations into possible design choices. In addition to more detailed policy analysis, this will involve experimental work in collaboration with other central banks and experts outside the Bank to help identify design options for meeting relevant public policy objectives.