Bank of Canada Review - Autumn 2013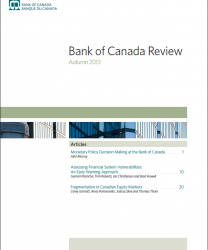 The three articles in this issue provide an overview of the monetary policy decision-making process at the Bank of Canada, a discussion of Bank research on the assessment of vulnerabilities in the financial system and a description of recent fragmentation in Canadian equity markets.
The Autumn 2013 issue is the last quarterly publication of the Bank of Canada Review. Starting in 2014, the Review will be published biannually, in May and November.
Articles undergo a thorough review process. The views expressed in the articles are those of the authors and do not necessarily reflect the views of the Bank. The contents of the Review may be reproduced or quoted, provided that the publication, with its date, is specifically cited as the source.