Bringing diversity and inclusion to life
The Bank employs talented individuals from across Canada and around the world. It values and celebrates this diversity.
In 2020, the Bank launched a comprehensive strategy to put diversity and inclusion into practice. This is the latest step in fostering a work environment where all employees feel safe and valued for their individual contributions and unique perspectives.
Formalizing the Bank's commitment to inclusion
Diversity and inclusion are key sources of strength in the workplace, helping the Bank make better decisions and policies in the service of Canadians. The Bank has focused on diversity and inclusion for years. The strategy launched in 2020 further formalizes the effort, coordinates the many initiatives already underway and raises the bar.
The strategy—which includes intended outcomes and measures of success—incorporates the principles of diversity, equity and inclusion into every aspect of the Bank's work.
We need to create an environment of inclusion where the power of our experiences, identities and ideas creates the kind of workplace we aspire to.

Governor Tiff Macklem
Fostering a diverse workforce and enabling inclusive leaders
It is vital that the Bank, as a public institution, reflect the diversity of the Canadian population it serves.
To this end, the Bank's strategy for diversity and inclusion lays out clear goals for representation of women and other designated employment equity groups,1 including specific goals for senior officers. The Bank seeks to achieve diversity goals through:
education
employee development
outreach
scholarship and recruitment programs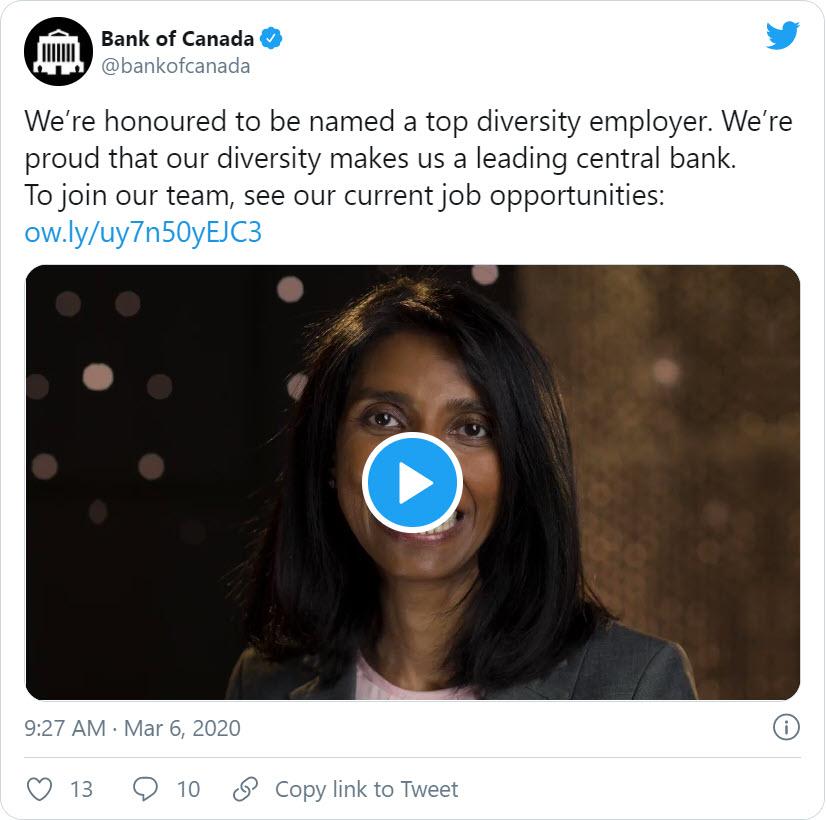 https://twitter.com/bankofcanada/status/1235935132806152195
The renewed anti-racism movement that followed in the wake of racial injustices in the summer of 2020 highlighted the continuing need to recognize and address the harm and inequity that affects the lives of Black and other racialized Canadians as well as Indigenous Peoples. During this period, the Bank:
shared a message from senior leadership to employees that condemned racism in all its forms
facilitated the creation of a new employee resource group—embRACE—for Black, other racialized and Indigenous employees, and their allies
engaged leaders and held listening sessions with employees
developed a collection of resources on racism and anti-racism, accessible to all leaders and employees
Grassroots employee resource groups (ERGs) like embRACE play an important role in fostering dialogue on issues related to diversity and inclusion. The Bank's ERGs include:
Franconnexions (also created in 2020): highlighting Francophone cultures and creating an inclusive workplace that reflects and respects Canada's linguistic duality
Enabled: ensuring a barrier-free workplace, raising awareness of visible and non-visible disabilities and providing peer-to-peer support
NGen ("New Generation"): building a supportive network for new Bank employees and spotlighting resources and development opportunities
PotentiELLE: supporting the professional growth and development of women at the Bank
Pride: creating a community of LGBTQ2S+ employees and their allies, raising awareness and providing education and social support on related issues
Building partnerships with diverse stakeholders
The strategy to activate diversity and inclusion highlights the importance of the Bank's relationships with diverse external partners and stakeholders. On this front, the Bank continued to communicate and share practices with other central banks to enhance diversity and inclusion.
The Bank also continued to connect directly with diverse communities across Canada through its relationships with universities and other external organizations. These connections enable deeper, more meaningful dialogue and help support the Bank's recruitment objectives.
Notably, the Bank continued to work closely with Indspire, a non‑profit organization that helps the Bank connect with Indigenous students in Canada.
Looking forward
In 2021, the Bank will:
continue to implement the new diversity and inclusion strategy, which will include ongoing dialogue with employees across the organization
provide leaders with more tools and training for their role as diversity and inclusion champions
promote diversity and inclusion in the next medium‑term plan
identify and address biases and barriers to equal opportunities and outcomes at the Bank