Our COVID-19 response: Navigating diverse economic impacts
The pandemic and related containment measures have deeply affected Canadians and the Canadian economy. The impacts have been different across sectors and regions. The economic recovery will also look different across the country as local economies start to re-open.
Implications for business sectors
Sectors that rely on social interactions, non-essential spending and foreign sales have been particularly hard hit by COVID-19 (Chart 1).
The initial impact of the pandemic was greatest in the travel, entertainment and food service sectors.
Sectors involving face-to-face personal services, such as hair salons and dental offices, have faced significant losses.
Commodity-producing firms dealing with lower global prices for resources continue to be heavily affected, especially in the energy sector.
Sectors considered essential, those that were able to move easily to telework and those that could offer their services in a different way—such as virtual health care and grocery delivery—may not have felt the impact as deeply.
Women have been disproportionately affected by COVID-19 because of their high representation in sectors that have been hard hit by lockdown measures. They are also more likely to be grappling with a lack of childcare given the closures of schools and daycares."

Lawrence Schembri, Deputy Governor
Regional differences
The pandemic affected regions and provinces differently because case numbers and containment measures varied across the country. The short- and long-term effects on provinces may differ based on three factors:
Reliance on industries and sectors that have been significantly affected—Atlantic provinces that rely heavily on tourism and western provinces with large energy sectors may have a slower recovery.
Ability to reduce the spread of COVID-19 and reopen sooner—British Columbia, Manitoba, Saskatchewan and New Brunswick started easing restrictions first. This may bring about earlier improvements in consumer spending and confidence. But it could also make these provinces more vulnerable if there is a second wave of the virus.
Ability to financially support their health-care systems, municipalities and public institutions such as universities and colleges—British Columbia and Saskatchewan may weather the storm better because of their healthier finances.
Moving towards recovery
Strong policy actions by the Bank of Canada, governments and other authorities have supported household incomes and helped businesses stay afloat through the lockdown period (Figure 1). This laid the necessary foundation for eventual recovery.
The Bank lowered its policy interest rate to 0.25 percent to make it easier for people and businesses to manage their debt.
The Bank has also put in place several programs to keep financial markets working.
Financial market conditions have improved significantly, and credit is continuing to flow to households and businesses when they need it most. These actions will ensure a well-functioning financial system to support the emerging recovery and will help us achieve Canada's 2 percent inflation target.
What recovery may look like
Once measures to control the virus are relaxed, household spending and economic activity will start to rebound (Figure 2). We are already seeing employment levels rise, and more Canadians are looking for work. But a full recovery to pre-COVID-19 levels of employment and output is likely a long way off.
Business will restart in stages, and people will gradually return to work.
Bankruptcies or permanent closures will likely slow the recovery.
Foreign demand and commodity prices will gradually increase as the global recovery gains traction.
Sectors that produce goods will likely recover sooner than face-to-face services. But production lines may not operate fully for some time because of breaks in their supply chains.
The rebound in many service sectors—particularly travel, tourism and entertainment—could be tempered by ongoing concerns about large gatherings and close interaction.
Figure 2: The recovery of economic activity and household spending will have two phases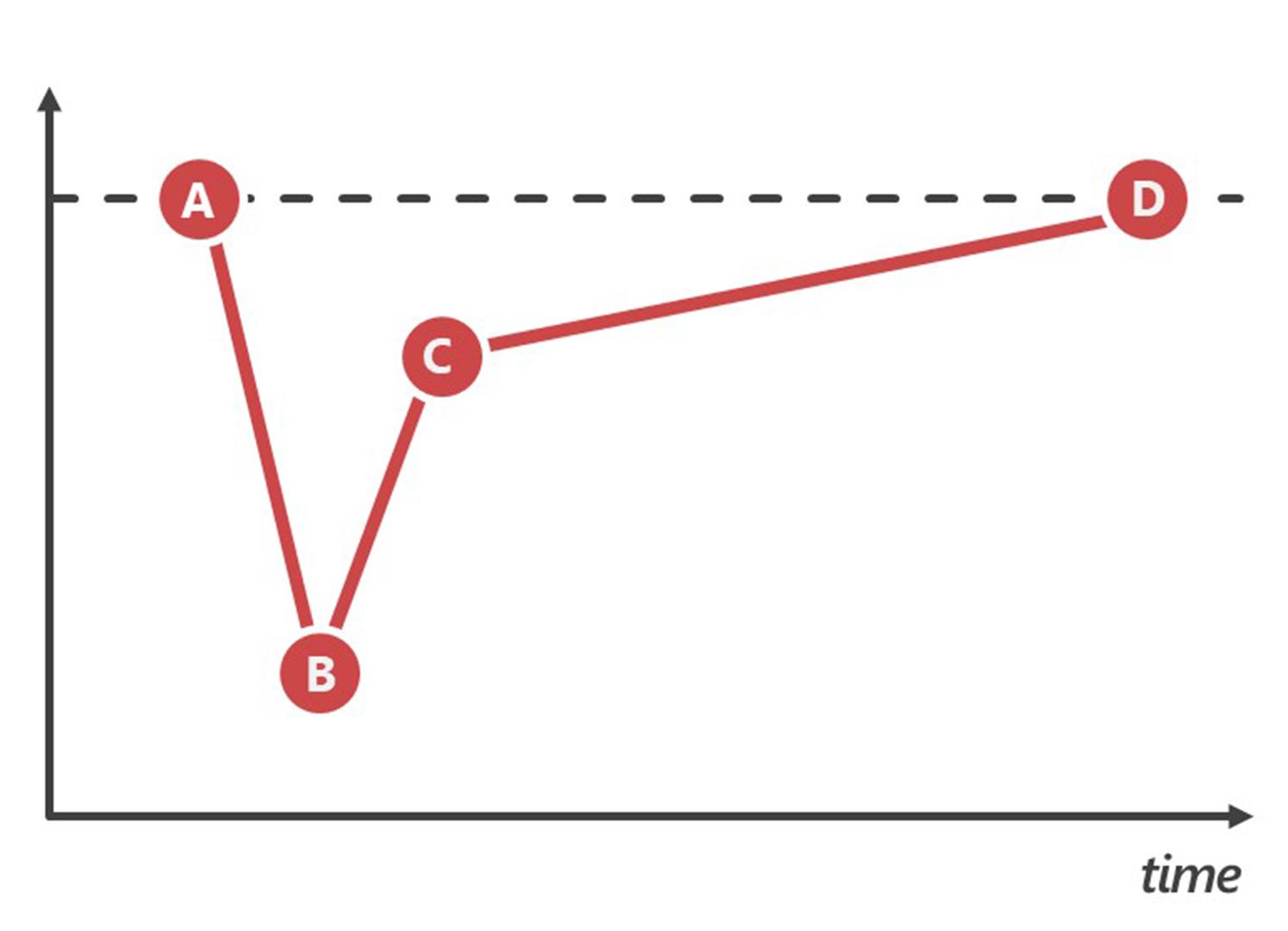 A-B: drastic drop in spending and economic activity due to initial economic lockdown
B-C: first recovery phase – spending picks up quickly as restrictions are relaxed due to pent-up demand
C-D: second recovery phase – more uneven and drawn out as the evolution of the virus is uncertain