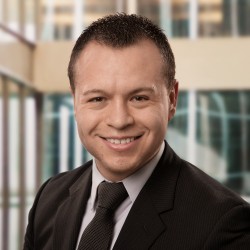 Jorge Cruz Lopez
Principal Researcher
Ph.D. Business Administration - Finance. Simon Fraser University, Canada.
Visiting Ph.D. Student. Queensland University of Technology, Australia.
Visiting Ph.D. Student. HEC Paris, France.
Ph.D. Core Courses. The University of British Columbia, Canada.
M.A. Financial Risk Management. Simon Fraser University, Canada.
B.B.A. Finance and Economics. Simon Fraser University, Canada.
Bio
Jorge Cruz Lopez is a Principal Researcher at the Bank of Canada. He is also a Sessional Lecturer at the Telfer School of Management at the University of Ottawa and at the Sprott School of Business at Carleton University in Canada, and a member of the Advisory Board of the New York Institute of Finance in the U.S.A.
Jorge joined the Bank of Canada in 2011. In his current role, he conducts and oversees research and policy in the areas of asset pricing, financial stability and risk management. He has participated in multiple working groups relating to the regulation of over-the-counter derivatives markets and the modernization of payment systems. In addition, he has served as the Associate Editor of the Bank of Canada Financial System Review, a biannual publication devoted to the assessment of systemic risks globally and in Canada.
His recent work proposes new techniques for improving the management of payment systems and derivatives central counterparties (CCPs) through the efficient use of collateral and default resolution arrangements. He has also worked on optimizing foreign reserve portfolios and lately, on assessing structural risks in distributed ledger technologies (DLTs) and e-money transactions.
Jorge has published in both academic and practitioner journals and has been a speaker at several conferences, universities and policy institutions, including the Bank for International Settlements (BIS) and most of the central banks in the G10.
Prior to joining the Bank of Canada, Jorge worked as a Finance Lecturer at the Beedie School of Business at Simon Fraser University in Vancouver, Canada. He holds a PhD from the same university and has been a Visiting Scholar at HEC Paris in France and at Queensland University of Technology in Australia.
---
Show all
Staff Discussion Papers
At the Pittsburgh Summit in 2009, G20 countries announced their commitment to clear all standardized over-the-counter (OTC) derivatives through central counterparties (CCPs). Since then, CCPs have become increasingly important and there has been an extensive program of regulatory enhancements to both them and OTC derivatives markets.
Staff Working Papers
We present CoMargin, a new methodology to estimate collateral requirements for central counterparties (CCPs) in derivatives markets. CoMargin depends on both the tail risk of a given market participant and its interdependence with other participants.
---
Journal Publications
Journal articles
CoMargin
Journal of Financial and Quantitative Analysis, 52(5), 2183-2215. Co-authored with Jeffrey H. Harris, Christophe Hurlin and Christophe Pérignon.
Clearing House, Margin Requirements, and Systemic Risk
Review of Futures Markets 19 Special Edition (2011), 39-54. Co-authored with Jeffrey H. Harris and Christophe Pérignon.
Other publications
Risk Accumulation in Central Counterparties
Foreign Reserves and Tail Risks
Systemically Important Members in Central Counterparties
The Limits of Diversification and the Pricing of Tail Risk
Book chapters
Mind the Gap: Undercollateralization in the Global and Canadian OTCD Markets
Peer-reviewed book chapter in Analyzing the Economics of Financial Market Infrastructure, IGI Global, Deutsche Bundesbank, Banco de Mexico, and De Nederlandsche Bank (2015).