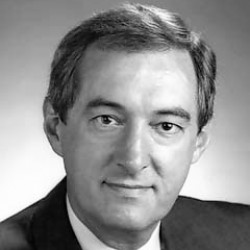 John Crow
Former Governor (1987 - 1994)
Past Governors of the Bank
Bio
Mr. Crow was appointed Governor of the Bank of Canada on 1 February 1987 for a term of seven years.
Born in London, England, Mr. Crow spent two years with the Royal Air Force, then studied at Oxford University, graduating in Philosophy, Politics, and Economics in 1961. After university he worked for more than a decade at the International Monetary Fund in Washington, DC, where he was appointed Chief of the North American Division in 1970.
In 1973 Mr. Crow joined the Research Department of the Bank of Canada as Deputy Chief and became chief a year and a half later. He was appointed Adviser to the Governor in 1979 and Deputy Governor in May 1981.
Mr. Crow resigned from the Bank on 1 February 1994 and currently resides in Toronto, Ontario.
---
Bank publications
Financial System Review articles
---