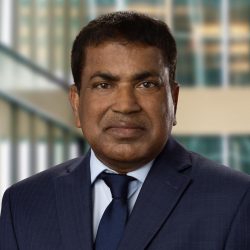 Madanmohan Ghosh
Principal Economist
Post-Doctoral Fellow, Western University, London, Ontario. 1998-2000.
Ph.D. in Economics, Jawaharlal Nehru University, New Delhi, 1999.
Bio
Madanmohan Ghosh (Madan) is Principal Economist of the Canadian Economic Analysis Division. Currently, his primary research interests include climate change policy analysis using large-scale simulation models such as computable general equilibrium (CGE) models and integrated assessment models (IAMs). He has also published extensively in the areas international trade and foreign direct investment, public finance, poverty, and economic development. Prior to joining the Bank of Canada, Madan worked as a Senior Advisor and Chief of the CGE Modeling Section at the Economic Analysis Directorate, Environment and Climate Change Canada. He also has previous experience as a Senior Policy Advisor, Department of Finance and at the Department of the Innovation, Science and Economic Development of the Government of Canada. Madan has also held doctoral and post-doctoral visiting positions at Western University and has taught graduate and undergraduate courses at the Western and Carleton University.
---
Journal publications
Selected recent publications
"Capturing key energy and emission trends in CGE models: Assessment of status and remaining challenges,"
(with Taran Fæhn, Gabriel Bachner, Shinichiro Fujimori, Meriem Hamdi-Cherif, Elisa Lanzi, Sergey Paltsev, Toon Vandyck, Robert Beach, Bruno Cunha, Rafael Garaffa, Karl Steininger). Journal of Global Economic Analysis, Volume 5 (2020), No. 1, pp. 196-272 (2020).
"The Drivers of GHG Emissions Intensity Improvements in Major Economies Analysis of Trends 1995-2009,"
(with Deming Luo, Muhammad Shahid Siddiqui, Thomas Rutherford and Yunfa Zhu). Foreign Trade Review, Volume 55(3) 277–297 (2020).
"Revenue recycling and cost effective GHG abatement: An exploratory analysis using a global multi-sector multi-region CGE model,"
(with Yunfa Zhu, Deming Luo, Nick Macaluso and Jacob Rattray). Climate Change Economics, Vol. 9, No. 1 (2018).
"Impacts of Technology uncertainty on Energy Use, Emission and Abatement Cost in USA: Simulation results from Environment Canada's Integrated Assessment Model for EMF 24 US Scenarios,"
(with Yunfa Zhu). The Energy Journal Vol. 35, No. SI1 (2014).
"Production versus Consumption-Based Emission Targeting: Implications for Developing and Developed Economies,"
(with Manmohan Agarwal). Environment and Development Economic, Available on CJO 2013 doi:10.1017/S1355770X13000582 (2013).
"Temperature control, emission abatements and costs: Key EMF 27 results from the Environment Canada integrated assessment model,"
(with Yunfa Zhu). Climatic Change 123:571–582 (2014).
"Impact of Foreign Ownership Restrictions on FDI Stock in OECD Countries,"
(with Panagiotis Syntetos and Weimin Wang). Global Economy Journal, Vol. (12:3, Article 1) 2012.
"Border tax adjustments in the climate policy context: CO2 versus broad-based GHG emission targeting,"
(with Deming Luo, Muhammad Shahid Siddiqui and Yunfa Zhu). Energy Economics Vol 34. (sp 2) (2012).
"An India-China FTA: Potential Economic Implications for the Asian and the North American Economies,"
(with Manmohan Agarwal). South Asia Economic Journal, Vol. 12(2): 185-220 (2011).
"Canada and US Outward FDI and Exports: Are China and India
Special?"
(With Weimin Wang). International Trade Journal, Vol 25(4):465-512 (2011).
Monograph/Working papers
---