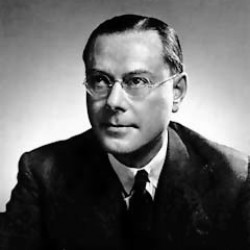 Graham Towers
Former Governor (1934 - 1954)
Past Governors of the Bank
Bio
Mr. Towers was appointed Governor of the Bank of Canada on 8 September 1934 and served three 7-year terms, retiring on 31 December 1954.
Born in Montreal in 1897, Mr. Towers graduated from McGill University in 1919 and had a distinguished career with the Royal Bank of Canada at Montreal before becoming Governor of the newly established Bank of Canada in 1934.
During World War II, Governor Towers was Chairman of the Foreign Exchange Control Board (from 1939 until controls ended in 1951) and Chairman of the National War Finance Committee (1943-45).
After the war, Governor Towers served as President of the Industrial Development Bank
(1944-54) and was also Alternate Governor for Canada at the International Monetary Fund (1946-54).
Mr. Towers died on 4 December 1975.
---