1986 Series, Birds of Canada
The Birds of Canada series was designed about thirty years ago with security features to counter the colour photocopiers of that era. Of note was the introduction of an optical security device (a metallic patch that shifts from gold to green) and larger portraits that facilitated viewing the fine-line work in the face and hair.
Security
If you are unsure about a note from an older series, ask for a more recent one.
1. Metallic patch
Tilt the note. The patch changes from gold to green. Touch the patch. There are no detectable raised edges and it cannot be peeled off.
Note: the $2, $5 and $10 notes of this series do not have a metallic patch.
2. Raised ink
Feel the raised ink on the large number, the shoulders of the portrait, and the two horizontal bars that run the length of the note.
3. Green dots
Look at the small green dots that appear at random on both sides of the note. If they are on the surface, they can be scratched off.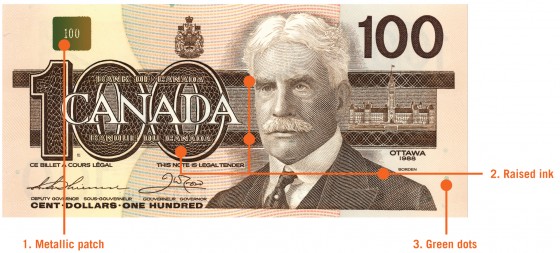 Also note
This was the last series to include the $2 and $1,000 notes:
In 1996, the $2 note ceased being issued and was replaced by a more durable coin.
In 2000, the $1,000 note was withdrawn from circulation.
Upcoming changes to legal tender status for older bank notes.
Size: 152.4 x 69.85 mm (6.0 x 2.75 inches)