Currency
The COVID‑19 pandemic affected the Bank's currency function in a variety of ways.
A higher-than-usual demand for cash put pressure on bank note inventories and the Bank's operations centres. Navigating these pressures required agility and innovation.
The Bank continued to conduct research on payment methods, including the ways in which the pandemic led to deviations from historical trends. This research informed the Bank's ongoing work in various areas, including on central bank digital currency (CBDC).
Meanwhile, counterfeiting rates in Canada remained low in 2020.
Ensuring the continuous supply and distribution of bank notes
Early in the pandemic, the Bank worked with financial institutions and distribution partners to boost inventories of bank notes at the regional distribution centres. This action lowered the risk of disruptions to the transportation of bank notes during the lockdown, ensuring an uninterrupted supply of notes to all regions of the country.
The Bank's Agency Operations Centres, responsible for processing the country's bank notes, also played a vital role.
Keeping counterfeiting rates low
The cutting-edge security features of Canada's bank notes make them easy to check and difficult to counterfeit. This is reflected in Canada's low counterfeiting rate, which was 8 parts per million on December 31—well below the Bank's target of 30 parts per million.
The Bank continued its research into bank note technologies and future security features. It also conducted a public information campaign to remind Canadians that $1, $2, $25, $500 and $1,000 bank notes would lose their status as legal tender on January 1, 2021. The Bank supported this Government of Canada initiative because it helps ensure that notes in circulation are current, secure and easy to use.
Engaging stakeholders
The Bank continued its counterfeit deterrence activities with retailers, lottery and gaming organizations, working with law enforcement, including the Royal Canadian Mounted Police.
Regional offices across the country:
maintained strong relationships with local stakeholders
continued to support public education in their respective districts
Faced with public concerns about the transmission of the COVID‑19 virus on bank notes, the Bank consulted with health experts. Their findings supported the view that handling cash is no riskier than touching other common surfaces. The Bank therefore urged retailers to continue accepting bank notes, advocating for Canadians who rely on cash to buy the products and services they need.1
Planning for the future of payments
The Bank continued to monitor the evolution of money and payments, while also furthering its own research into a potential CBDC.2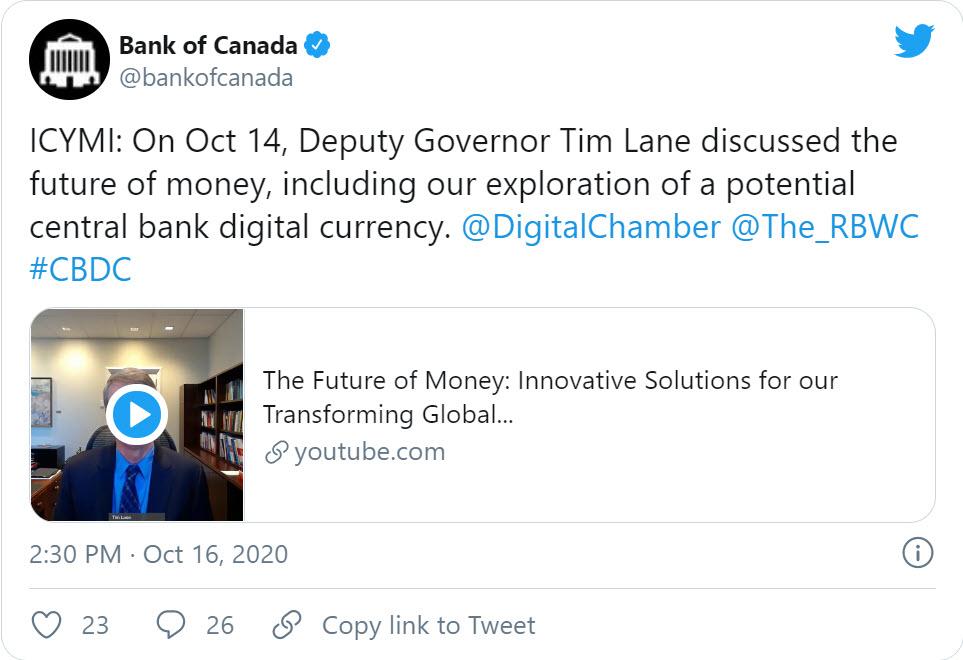 https://twitter.com/bankofcanada/status/1317171001088745474
The Bank determined there is no compelling case to issue a CBDC at this time. But it began planning for a future where one might be needed. In February, the Bank released a comprehensive document outlining recommendations and began engaging with policy makers, financial institutions and other central banks to help guide future work in this area.
As well, the Bank collaborated with six other central banks on a joint report3 that outlined:
the underlying principles and core features of a digital currency
how a digital currency could help central banks deliver their public policy objectives

Designing the next generation of bank notes
From January to March 2020, the Bank held an open call for nominations of an iconic Canadian to feature on the next $5 bank note. This call resulted in over 600 qualified submissions. An independent advisory council (informed by online focus groups, a public survey, historical research and academic reviews) short‑listed eight candidates from these submissions.
The Bank also created an Indigenous Advisory Circle to provide advice on how Indigenous peoples in Canada should be represented on future bank notes through symbols, images, patterns and other visual content. The group will also guide the Bank of Canada Museum on its collections, programs and exhibitions related to Indigenous peoples.
Looking forward
In 2021, the Bank will:
announce the portrait subject for the next $5 bank note, subject to a final decision by the Minister of Finance
continue its research into security features for future bank notes
expand its research on the use of cash and digital currencies
develop a new counterfeit deterrence model, in partnership with law enforcement agencies
---
1. Bank of Canada, "Update: Bank of Canada Asks Retailers to Continue Accepting Cash," press release (May 28, 2020).[←]
2. Timothy Lane, "Money and Payments in the Digital Age" (speech to the CFA Montréal FinTech RDV2020, Montréal, Quebec, February 25, 2020).[←]
3. Bank of Canada, European Central Bank, Bank of Japan, Sveriges Riksbank, Swiss National Bank, Bank of England, Board of Governors of the Federal Reserve and Bank for International Settlements, Central Bank Digital Currencies: Foundational Principles and Core Features (Bank for International Settlements, 2020).[←]